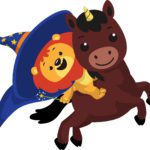 ROARR is pleased to present our Second Annual Gala: The Magic of Horses!  This event takes place Saturday, September 7, 2019 at RiverCross Ranch in Springbank, Alberta.  The gala is expected to draw around 250 supporters with two very special guests; Dr. Allan Hamilton and Kari Fulmek.
Sponsorships can be purchased with advertising benefits for each sponsor.  Sponsorships assist in covering the cost of the event so that any additional donations can go directly to our programs. All details can be found by clicking the link below.
The Magic of Horses Gala has tables of eight available for $1200 and individual tickets available for $150.
Our gala is currently sold out. If you need to make a payment or have questions, contact steph@roarr.org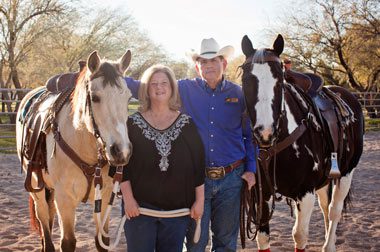 Dr. Allan Hamilton is a Harvard-trained neurosurgeon, celebrated speaker, and acclaimed award-winning writer.  Also, a professional horse trainer, Dr. Hamilton's equine facilitated programs have been featured on Arizona Highways, ABC News, PBS, and CNN.  Dr. Hamilton has published three books on the power of horses and provides Equine Therapy along with his wife Dr. Jane Hamilton.  Dr. Allan Hamilton will be speaking on the benefits horses have in healing the soul.  Learn more about Dr. Allan Hamilton.
Kari Fulmek is one of the world's leading instructors in the Equine Assisted Learning Certification, helping others become competent Equine Assisted Learning Facilitators.  Kari is the Founder and Master Instructor at the Equine Connection - the Academy of Equine Assisted Learning, as well as the author of 'Two Weeks to Empowerment' book and workbook and featured in the book 'If It's Not Hard It's Not Your Dream', a biography of Kari's triumph over adversity and loss. Learn more about Kari Fulmek.
Dr. Allan Hamilton is Coming to Calgary!
Zen Mind, Zen Horse; The Neuro-Equine Model® in Practice
Sunday, Sept 8, 2019; 9am-4pm; Cost: $550
Based on Dr. Allan Hamilton's award-winning book 
Zen Mind, Zen Horse: The Science and
Spirituality of Working with Horses
, this program is designed for two groups of individuals. The first is therapists, clinicians, psychologists, counselors and educators who want to learn how to incorporate equine-facilitated programming as a powerful addition to guide and counsel others. The second group is equine specialists who wish to add horse-assisted therapy and learning to their list of professional services. In a powerful and time-tested model of groundwork with horses, Dr. Allan Hamilton and his wife, Dr. Jane Hamilton will train participants to harness equine-assisted approaches to address therapeutic and learning goals. Drs. Hamilton will also cover how equine-assisted techniques can be applied to groups for corporate leadership and management programming. This is a rare chance to learn a fresh perspective with the Neuro-Equine Model® as a powerful tool to help individuals tackle educational and emotional issues.
This course is open to anyone, no prior experience with horses is required to enroll.
Embarking on the Voyage of Personal Transformation; The Hero's Journey
Monday, Sept 9, 2019; 9am-4pm; Cost: $350
Being a hero isn't easy. The work, the pain, the sacrifices, and scars often go unacknowledged and unsung. This course uses principles derived from Joseph Campbell's Hero with a Thousand Faces and asks us to become the heroes of our own individual emotional and spiritual journey. How do we face that hero? How do we live up to that hero? The seminar includes immersive and interactive sessions as well as work with horses in the round pen and arena to help get us to the point that we can take the mission on. The concepts covered will include the Seven Rules of Spiritual Transformation: making a commitment to something greater than oneself, being true to one's own nature, entering unfamiliar territory, answering the call to action, readying oneself, undergoing personal sacrifice, and returning to our lives with renewed power. Each participant will be encouraged to develop a template for his or her own heroic transformation.
Who should attend? Anyone with a spiritual itch, be they counselors, veterans, clergy, business leaders, spiritual leaders, social workers, students, teachers, seekers, religious groups. There is a hero in all of us and it is time to acknowledge it, honor it, and live up to it.