Robinson Outreach at RiverCross Ranch strives to relieve the conditions associated with youth and elderly in need, by providing Equine Assisted Learning and related therapies.
The Robinson family has deep roots in the Springbank community and take pride in their generous contributions to this area for many decades. This long-time ranching family is now fulfilling a dream that will allow others to share in the beauty of their Springbank ranch. The ROARR foundation is doing exactly that – sharing the family's blessings with others that are not as fortunate. ROARR's headquarters are located at RiverCross Ranch, on the Robinson's Val Vista Ranch property just west of the Springbank High School.
Janet Robinson
Janet joined the Roarr team as Executive Director in February of 2020. She brings years of experience working with seniors, children, and youth in the public sector.  She has extensively worked with Indigenous Relations, and Refugee families.  Janet looks forward to bringing her commitment to building stronger communities and empowering those in need with her knowledge and experience, as it relates to Roarr's programming.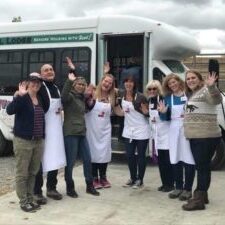 Our Volunteers
Volunteers are the heart of Roarr!  They help out with everything including, cleaning horse pens, trailering horses to home care visits, serving lunches to seniors, assisting our facilitators, and mentorship programs for our clients.   Roarr's programs would not happen without the hard work, commitment, and passion of each volunteer.
Marilyn MacLean
EAL Facilitator
Marilyn is a Cochrane resident since 1998, she is married and has two kids. Marilyn is a certified facilitator of Facilitated Equine Experiential Learning (FEEL) and Equine Assisted Learning(EAL) and she feels very fortunate to be able to take her passion for helping people, especially youth, and love of horses and combine the two in a very rewarding career as an equine guided wellness coach. Both FEEL and EAL partner with the horses in a unique way that allows the learning to be both experiential and educational. Marilyn has always been passionate about helping people and working with horses. Being able to combine the two is a dream come true. Marilyn strives to provide a safe, non-judgemental and caring environment for people to be able to build confidence, communication skills, trust and respect. Marilyn is passionate about encouraging people on their journey finding joy in their authentic self.